On November 8, the Institute of Oceanology of the Chinese Academy of Sciences (IOCAS) and the Research Center for Oceanography of National Research and Innovation Agency (RCO-BRIN) held the first round of Sino-Indonesia marine science workshop both onsite and online. More than 100 experts and scholars from China and Indonesia attended the meeting, and 8 scientists from China and Indonesia made academic reports, shared the latest scientific achievements, discussed hot scientific issues, and looked forward to the new direction of future research cooperation in the scientific fields of cooperation between China and Indonesia.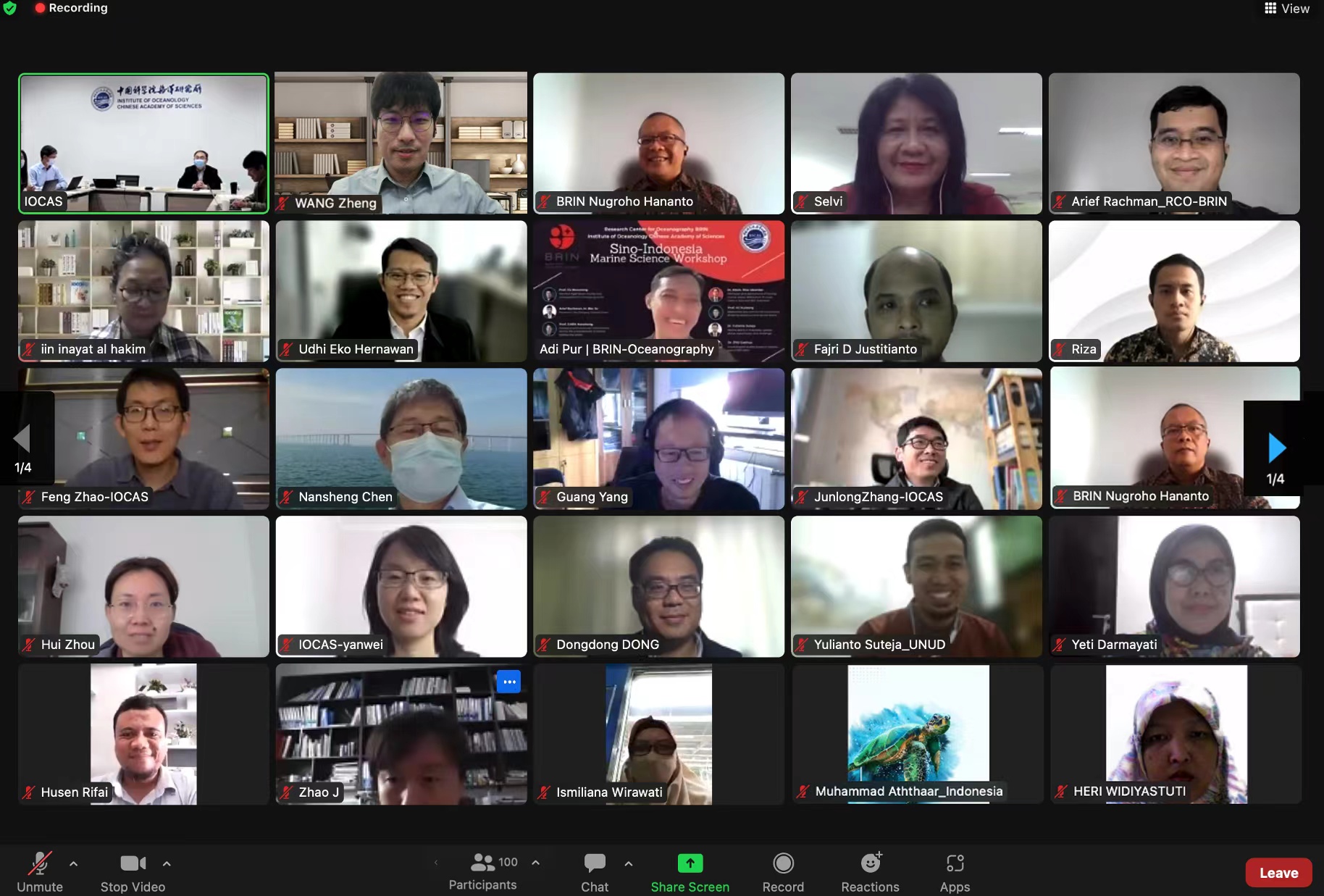 Prof. WANG Fan, the director of IOCAS, made a speech at the beginning, summarizing the cooperative research achievements made by the two sides in the past decade. From 2014 to 2021, IOCAS and the Indonesian Academy of Sciences jointly carried out six scientific research activities in the Indo Pacific Sea area. In particular, during the epidemic, both sides overcame difficulties, continued to promote joint cruises, and obtained valuable scientific research data. He mentioned that both sides have achieved milestone of ten-year cooperation, so both sides called for efforts to continue communications and strengthen cooperation in multiple marine science fields between two institutes. Both sides are planing several celebration activities such us scientific workshops, joint scientific research, people exchange, joint scientific cruises. Prof. WANG Fan hoped that the cooperation and scientific cruise will improve scientific research level of two institutes and wish RCO to become one of the most important institutes in ITF study worldwide, IOCAS will be supportive and make some contribution.
Udhi Hernawan, the director of RCO-BRIN, welcomed and thanked the experts and scholars attending the meeting. He pointed out that the topics discussed in this workshop are all hot areas concerned by Indonesia and the world, such as climate change, marine biodiversity, marine pollution, etc. He hoped that through this workshop and a series of future workshops, scientists from both sides could focus on the current situation, address issues and challenges, and finally seek solutions.
Subsequently, 8 scientists from China and Indonesia made reports respectively. YU Rencheng from IOCAS introduced harmful algal studies and management in a changing world. Arief Rachman from RCO-BRIN introduced plankton in the changing tropical ocean. CHEN Nansheng from IOCAS elaborated on the ecological and molecular mechanisms driving the establishment of the marine biodiversity center. Augy Syahailatua looked forward to future Ichthyplankton research. M Riza Iskandar from RCO-BRIN summarized pathways and destinations of floating marine plastic debris from 10 major rivers in Java and Bali, Indonesia. XU Kuidong from IOCAS systematically analyzed biodiversity and community connectivity driven by ocean currents across basins. Yulianto Suteja from department of Marine Science of Udayana University introduced update status, opportunities and challenges of marine debris in Indonesia. ZHU Gaohua from IOCAS explained seismological studied based on passive source Ocean Bottom Seismography (OBS) data.
The workshop provided a good platform for exchanges between experts and scholars from both sides and laid a solid foundation for the next step of cooperation.
(Editor: ZHANG Yiyi)