Corrosion is another marine environmental challenge being tackled by IOCAS.
The CAS Key Laboratory of Marine Environmental Corrosion and Bio-fouling has established robust assessment tools to learn the cost of corrosion, studied the mechanisms, and developed anti-corrosion technologies. Supported by a consultation project on China's corrosion status and control strategies, the research team surveyed 30-plus industrial sectors, and estimated that the cost of corrosion in 2014 was approximately 2127.8 billion yuan (US$310 billion), about 3.34% of national GDP of the year. Results were outlined in a book, The Cost of Corrosion in China, attracting media interest.
IOCAS researchers focus on the effects of marine environmental factors on corrosion processes. Specifically, they identified bacteria or microbial communities in steel rust to explain the mechanisms of corrosion, investigated the synergy between different isolated corrosive strains, and the dependence of microbiologically influenced corrosion on environmental parameters. They also revealed that metal materials tend to have higher pitting sensitivity at low temperatures, while the hydrogen permeation varies with material micro-structural differences, and that ultraviolet radiation influences the speed of atmospheric corrosion.
Based on these theoretical studies, IOCAS researchers have developed novel biosensors for fast testing of corrosion-causing bacteria, novel bionic anti-fouling enzymes, and photoelectrochemical cathodic protection strategies. They also explored super-hydrophobic surfaces for protecting against marine atmosphere corrosion, and slippery lubricant-infused porous surfaces for marine biofouling control.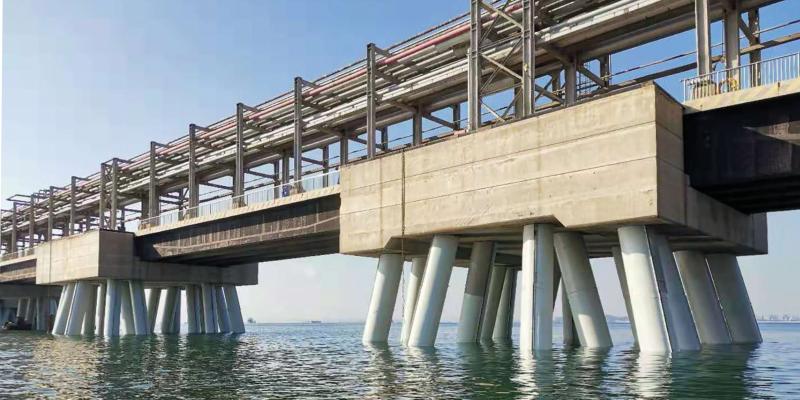 IOCAS's anti-corrosion technologies are used to protect steel pile foundations at Beiliang Port, in Dalian. (Image by IOCAS)
Many of IOCAS's corrosion protection technologies have been used in major engineering projects. For instance, targeting areas exposed to constant wave splash, petrolatum tape and covering system (PTC) enables sustainable, long-term, and economical protection for steel structures. Other examples include flexible reinforced concrete (FRC) coating, oxidative polymerization type covering materials that can be used for various complex structures, and corrosion monitoring devices for cathodic protection of steel structures that can be used in oil platforms.