Fucoidan Can Alleviate Cerebrovascular Damage in Type 2 Diabetes Mice
In the global diabetic patients, type 2 diabetes mellitus (T2DM) patients account for the majority. Fucoidan, a kind of sulfated polysaccharides present in brown algae, is considered as a promising therapeutic agent because of its multiply bioactivities. Despite growing evidence that fucoidan has a protective effect on diabetes, the effect of fucoidan on brain abnormalities in T2DM patients remains unclear.
Recently, the research team led by Prof. ZHANG Quanbin from the Institute of Oceanology of the Chinese Academy of Sciences (IOCAS) discovered that low molecular weight fucoidan (LMWF) could promote angiogenesis in db/db mice (type 2 diabetes mice).
The study was published in International Journal of Biological Macromolecules on July 13.
Researchers used a low molecular weight fucoidan (LMWF) prepared from saccharina japonica and with an average molecular weight of 8100 Da to investigate its effect on the cerebrovascular damage in db/db mice. Results showed that the degree of cerebrovascular damage, the number of apoptotic neuronal cells and the inflammatory response in db/db mice were decreased after treatment with LMWF. Moreover, LMWF could promotes the brain angiogenesis in db/db mice by up-regulates CD34 which is a neovascular markers and vascular endothelial growth factor A (VEGFA) expression. Further study found, LMWF alleviates vascular injury by up-regulating the expression level of phosphorylated PI3K (phosphoinositide 3-kinase) and phosphorylated AKT (Protein kinase b). This is the first report that low molecular weight fucoidan benefit to brain cerebrovascular for type 2 diabetes patients.
"The expression level of CD34 in the db/db group was lower than that in the normal mice, while the expression level of CD34 was up-regulated in LMWF treated mice brain. This suggests that LMWF may affect angiogenesis," said LI Zhi, first author of the study.
"LMWF could up-regulates CD34 expression in db/db mice brain, and we confirm the results in both in vitro Human Umbilical Vein Endothelial Cells (HUVEC) and in vivo zebrafish embryos. We found that it was difficult for HUVECs to form a tubular structure under high concentration of glucose, while the lumen formation of HUVEC endothelial cells was rescued by LMWF. And also, in in vivo zebrafish embryos model we found the subintestinal vessel angiogenesis under high glucose environment was also promoted by LMWF. Our study indicates that LMWF has the potential to develop a cerebrovascular protection agent for type 2 diabetes patients," said Prof. WU Ning, the corresponding author.
This work was supported by National Natural Science Fundation of China, and supported by the Major Scientific & Engineering Projects of Innovation in Shandong Province. And also partly supported by Shandong Provincial Natural Science Foundation, China.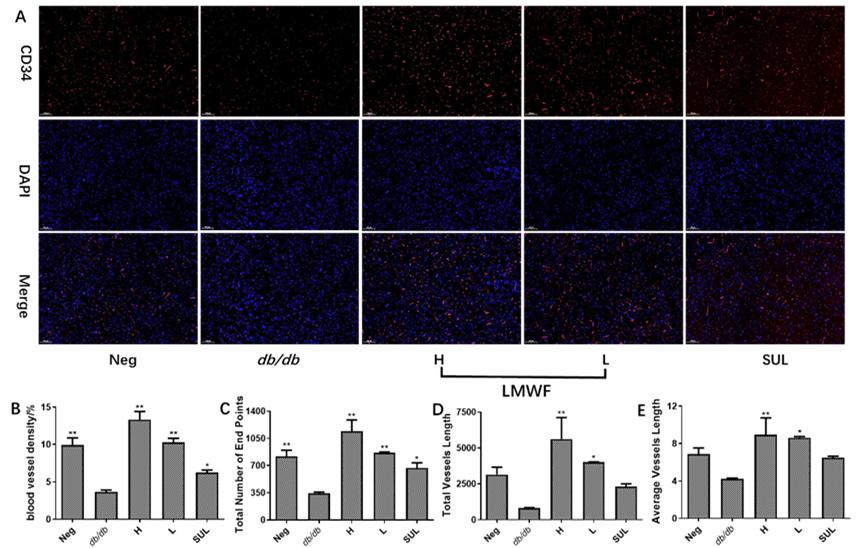 Fig. 1 LMWF promotes angiogenesis in db/db mice brain. Immunofluorescence assay (IF) staining of CD34 in mice brain tissues (red identify regions of positive staining and nuclear staining with DAPI) (A). Scale bar = 100 μm. The blood vessel density of mice brain (B), total number of end points of mice brain (C), total vessels length of mice brain (D) and average vessels length of mice brain (E).

Fig. 2 The effects of LMWF on tube formation of HUVECs under high glucose conditions. Representative images of tube formation (A-E).

Fig. 3 LMWF attenuates high glucose-induced vascular injury in zebrafish embryos. Representative images of zebrafish embryos (A-F). The relative blood vessel growth rate of zebrafish, taking CON group as control (G).
Zhi Li, Ning Wu*, Jing Wang, Yang Yue, Lihua Geng and Quanbin Zhang *. (2022). Low molecular weight fucoidan alleviates cerebrovascular damage by promoting angiogenesis in type 2 diabetes mice. International Journal of Biological Macromolecules, BIOMAC_21462.
(Text by LI Zhi, WU Ning)
Media Contact:
ZHANG Yiyi
Institute of Oceanology
E-mail: zhangyiyi@qdio.ac.cn
(Editor: ZHANG Yiyi)

Copyright © Institute of Oceanology Chinese Academy of Sciences
Address: 7 Nanhai Road, Qingdao, Shandong 266071, China
Tel: 86-532-82898902 Fax: 86-532-82898612 E-mail:
iocas@qdio.ac.cn